Day Sailing Adventures
Plan your special day in Paradise with a Private Sailing Charter...
A sailing charter to "learn the ropes" is the perfect way to set sail for the day, stop at beaches and enjoy the beauty of St Maarten. Little Poe heads out of Simpson Bay for a Half day of "Discover Sailing". Let a friendly and experienced instructor show you how things work on a sail boat, teach you some terminology and of course basic sailing.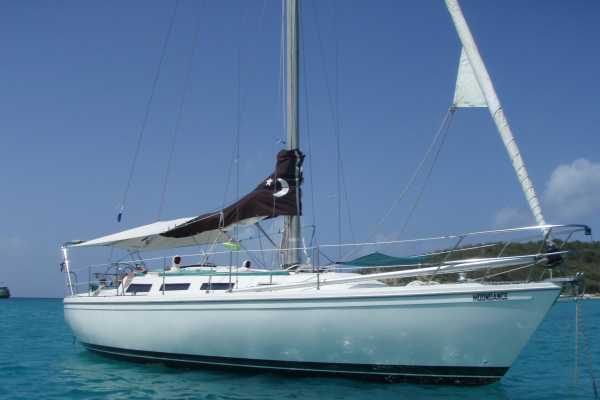 A sailing charter is the perfect way to appreciate the beauty of St. Maarten. Explore St. Maarten and see some of its beaches and the nearby islands. Enjoy the sun, relax on deck, or be part of the crew. Head off shore and explore St. Maarten on a half-day sailing charter. Moon Dance is a 36' Catlaina leaves from Simpson Bay on sailing adventures catering to family and friend groups. You can choose to relax on deck and enjoy the beauty of the coastline, or help out and become a part of the crew. You can try your luck fishing with the poles available on board, or use the dinghy to access the shore. Whatever you choose to do during the sail the views are guaranteed to be spectacular! Pack a picnic lunch to bring along and enjoy on deck or choose an easy and delicious meal at the Lolo Shacks. We can also cater lunch on board for you. Make the most of your stay and set sail on a Moon Dance charter!