Half Day Adventures
Half Day trips are perfect to see the beaches and snorkel around St Maarten...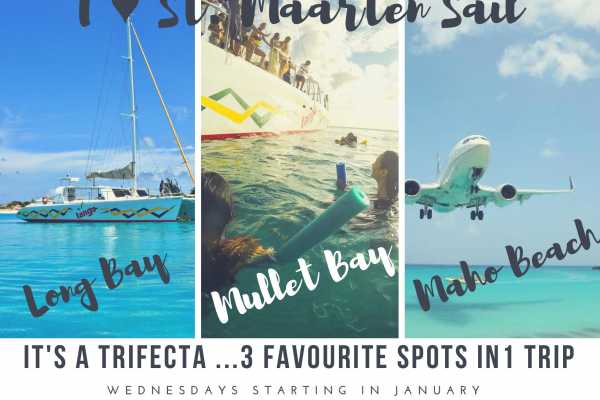 I ♥ St Maarten, 'The Friendly Island'. Maybe it's been awhile since you visited, maybe this is your first visit, maybe this is your home away from home. It's time to discover the island in a whole new way, on board our 65' Catamaran, Tango. Part day excursion with swimming & relaxing Enjoy crystal clear water and white sandy beaches Spacious catamaran with shaded seating and forward nets for lounging Open bar (rum punch, beer, soda & wine) and light lunch (sandwiches, fruits, cookies) served on board Friendly and attentive crew We have shoeless charters - so have your pedicure perfected We accept all major credit cards (Visa, MasterCard, American Express and Discover) however there is a 5% service charge. ***PLEASE PAY ATTENTION TO THE ITINERARY PAGE FOR DEPARTURE LOCATION AND CHECK IN TIME***
Sand Dollar departs for amazing half day trips to Creole Rock for snorkeling and sightseeing on the French side of St Martin. Sit back and relax as Captain Junior guides you to one of the prettiest snorkel spots on St Maarten. Enjoy snorkeling and swimming, chatting with the captain and sightsee St Maarten's coastline of beaches and beautiful homes.
Coastal Cruising for Snorkeling and swimming to Little Bay and Simpson bay Departures from Aqua Mania Adventures at Dock Maarten for a scenic cruise through Great Bay around to Little Bay for snorkeling, then on up the coast to Simpson Bay for a swim and further to Maho to watch the planes.